Solway Jones Gallery
For immediate release
Solway Jones
990 North Hill Street, Suite 180
Los Angeles, Ca 90012
323 223 0224
---
Stephen Berens
Every Time I Answered My Door in 2007 (Some Portraits)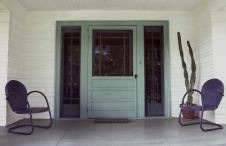 For the entire year of 2007, Stephen Berens took a photograph of whoever was at his door everytime he answered the doorbell. Among the resulting 119 portraits are UPS, FedEx and other delivery people, solicitors, Jehovah Witnesses, plumbers, real estate agents, a boy scout, and numerous friends and neighbors.
SolwayJones will be presenting the complete project throughout the 2009 calendar year. During the course of the year, each portrait will be shown at the gallery on the corresponding day in 2009 that it was taken in 2007. For example, the three portraits made on January 6th 2007 willbe shown only on January 6th in 2009 and the one portrait made on June 12th, 2007 will only be shown on June 12th in 2009. On days when the artist did not answer his door and no portraitswere taken, the gallery will display a photograph of the artist's front door (above).
To accompany the project a wall calendar and a book have been produced. The wall calendar was made possible through the support of The Durfee Foundation and is modeled on promotional calendars distributed by restaurants and other businesses. The calendar reproduces the same photograph of the artist's front door used in the gallery installation along with month-by-monthpages with text indicating how many portraits were taken on each particular day. This also tracks when the installation at the gallery will change. The book contains all of the 119 portraits reproduced in the sequence they were made in 2007. Both the book and the calendar are available at the gallery. The images will be on the website during the month they were shot starting around the 15th of January.
For more information, please contact:
Michael Solway or Angela Jones
SolwayJones
solwayjones@sbcglobal.net
http://www.solwayjonesgallery.com/